Publishing your site
While you may have a site that you can preview in your browser, that doesn't necessarily mean your website users can view it.
In Matrix, each asset has a Status setting that controls how and when website assets are visible publicly. You manage asset statuses on the Details screen of all asset types or the Asset status menu in the screen header.

View asset statuses
You can view a list of asset status keys in the asset tree area, and toggle the asset status colors using the ✔️ in the asset tree.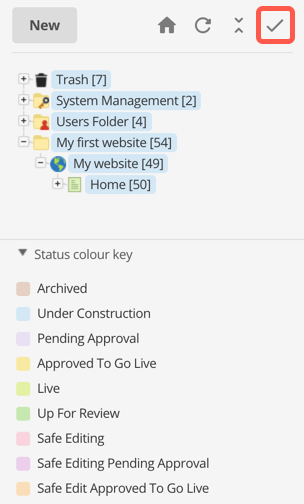 Figure 1. Asset status color key
When you create an asset, it automatically gets a status of Under construction. An asset with this status is viewable only by Matrix users if they are signed in to the system and have sufficient access privileges.
Make your website live
To allow site visitors to view your website through the frontend, you need to make your website assets Live.
Watch the video to learn how to publish content so it is live and viewable for your website users.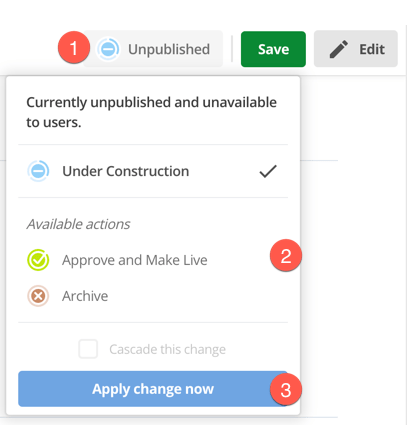 Click the Asset status menu.

Click Approve and make live from the available actions.

Click Cascade this change to publish your entire website from the Site asset down.

Select Apply change now.
View your website
As a Matrix user you can preview your website and see how it looks. If you view your website now, it may not look as you might expect a regular website to look or behave.
To change your website's look and feel, you need to apply a design or paint layout. Learn more about applying designs to your assets in the Asset paint layouts screen.
Make your website public
If you want public users to see the basic website you created, you need to add public user read permissions to your site. You typically set user permissions on site assets when you are ready to launch your website to the public, which is out of the scope of the getting started section.
Now you are familiar with the basics of using Matrix read Next steps to build upon the knowledge you've gained in this getting started series.