HPRM connector
This documentation explains the assets that are available in the HP records manager (HPRM) package. This package allow you to connect Matrix to a HPRM/HPE content manager, transferring records over a HPRM bridge.
For example, using the HPRM connector, a HPRM bridge can be created that can send, receive and manage the HPRM records and their attachments. HPRM saved searches can be created, saving and updating results from the HPRM system, determined by set search criteria. With these functions, Matrix can work closely in conjunction with a HPRM system, for full access and control of the stored records and their attachments.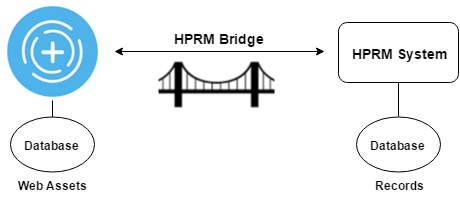 The HPRM package consists of two major components:
HPRM connector

The HPRM connector asset can be configured to connect to a HPRM system, Creating a HPRM bridge allowing easy management of the HPRM records. This HPRM bridge allows the use of the HPRM saved search asset and other HPRM functionalities. Multiple HPRM connectors can be created to link to more than one HPRM system or to create different access privileges for different users.

HPRM saved search

The HPRM saved search asset creates a saved set of HPRM search criteria in Matrix, creating a set of results that are stored and updated on the system. These results can be used with other Matrix assets to provide additional HPRM functionalities.
| | |
| --- | --- |
| | Matrix's HPRM package currently supports HPRM version 8.1, 8.3, and HPE content manager 9.1. |
Other Matrix assets can be used in conjunction with these connectors, providing functions such as:
E-form

A custom form can be configured as an e-form, submitting records to the HPRM system via the HPRM connector.

HPRM record listing

An asset listing can be used to list the results of a HPRM saved search and allow users to download attachments of the listed records.