HubSpot
A component that connects to HubSpot API.
Credentials
Authentication occurs through OAuth 2.0. To make OAuth work, you must create a new OAuth2 app in HubSpot or use an existing OAuth2 client during the credentials creation process.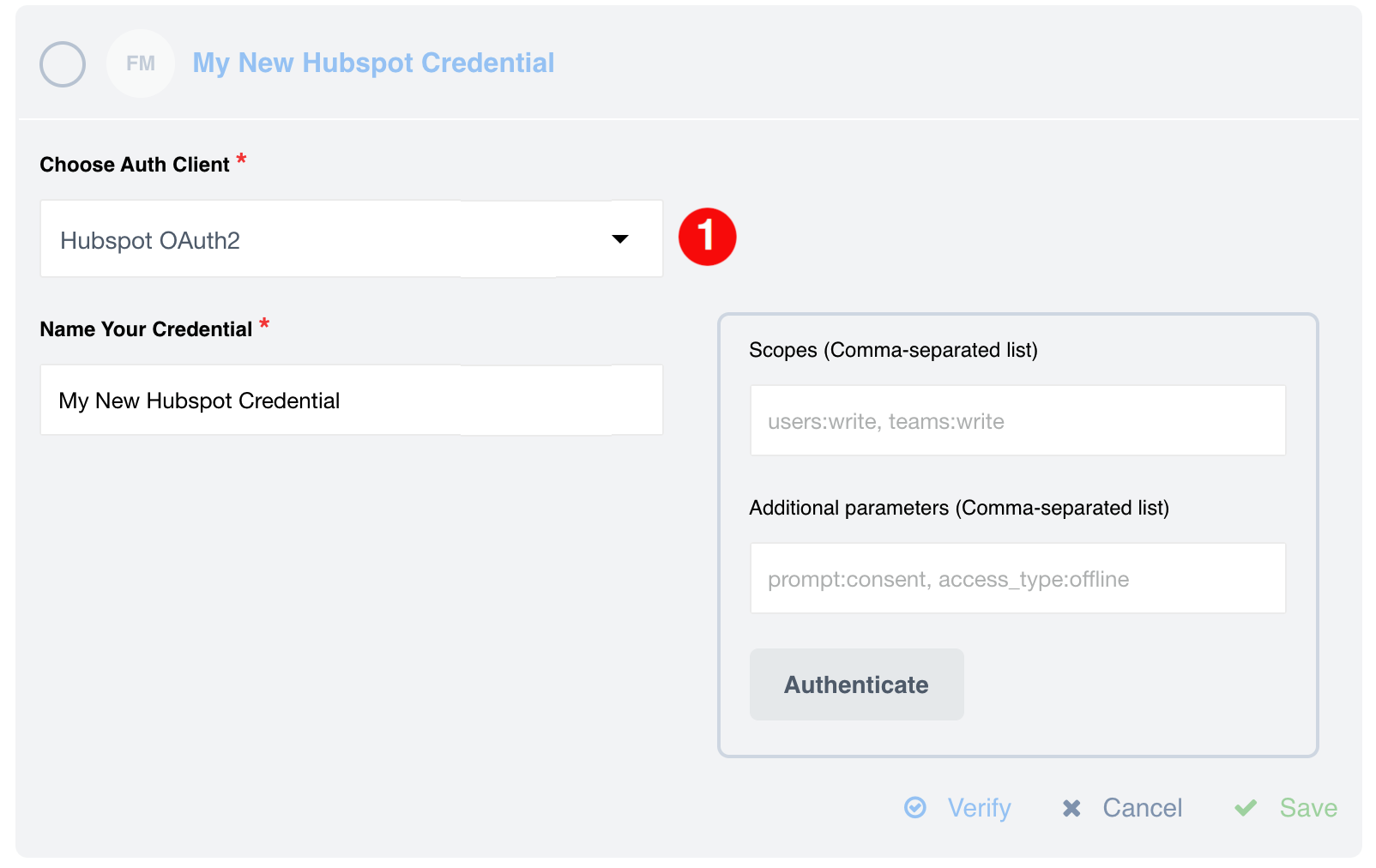 Select an existing authentication client from the Choose Auth Client list or create the new one.

Leave the Additional parameters input empty.

Provide the following value in the Scopes input. If you wish to grant specific permissions, you can remove them from this list.

crm.objects.contacts.read, crm.objects.contacts.write, crm.schemas.contacts.read, crm.schemas.contacts.write, crm.objects.owners.read
Click on Authenticate. If you have not logged into HubSpot before, then sign-in by entering data in the sign-in window that appears

Click on Verify to verify your credentials

Click on Save to save your credentials.
Triggers
Get new and updated objects
Configuration fields
Object type dropdown

Select an object type to fetch.

Emit behavior

Choose between Emit objects individually or Emit by page options.

Field to poll

Used to select the field to poll (new or modified objects).

Start time

Used to set the time to start retrieving events. (String, optional)

End time

When provided, do not fetch records modified after this time. (String, optional, defaults to never)

Size of polling page

Set the size of the fetched pages. (Optional, positive integer, max 100, defaults to 100)

Single page per interval

Indicates that if the number of changed records exceeds the maximum number of results in a page, instead of fetching the next page at once, wait until the subsequent flow starts to fetch the next page.
Output metadata
Fetch page

An object with key results that has an array as its value.

Emit individually

Each object fills the entire message.
Webhook
Receive data from HubSpot based on configured webhooks.
Configuration fields
Client secret

Provide the client secret from the HubSpot application here; otherwise, you will get an error during the webhook requests in case of incorrect or missing value.
Known limitations
HubSpot Rate Limits

The use of a timer (set to about 5 seconds) may increase performance when building a flow similar to: Upsert object → any Lookup object(s) while the Enable download attachments feature is enabled. Uploading the file to HubSpot with the Upsert object action can take considerable time; this may cause a 404 error on lookup.