Workplace 3.6 release notes
New features
News article, event and announcement creation wizard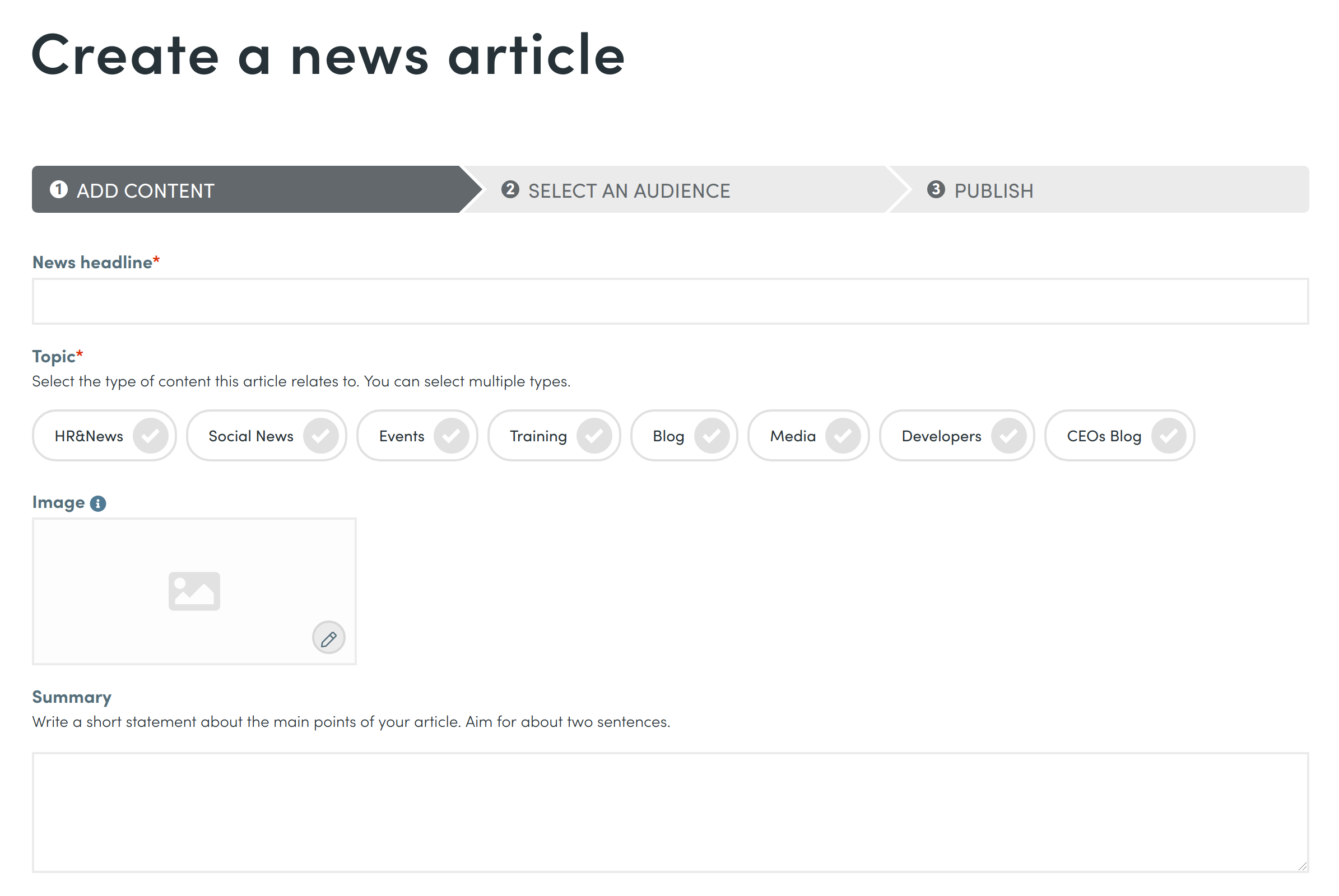 Workplace users can specify location and other category options to target specific groups of Workplace users as the 'audience' of their news items, based on these user's configured content preference options. These targeted Workplace users will see the news item appear on their Workplace home page and News and Events page.
The introduction of this wizard led to some feature rationalisation, and removal of the following news item features that were no longer being actively used:
'Links' items.

'Alert' news items. Note that these are different from alert popups, which are configured by Workplace system administrators.

The 'Contact' field from all types of news item - i.e. news articles, events and announcements.
| | |
| --- | --- |
| | Any existing links and alert news items created prior to upgrading to Workplace 3.6 will continue to be accessible after the upgrade. |
Easier access to Workplace documentation
Workplace's documentation was moved out of its embedded location within Workplace itself and made available on the Internet through Squiz's documentation site (https://docs.squiz.net), in time for the release of Workplace 3.4.
The documentation on this site is now versioned in line with Squiz's product versions.
A Help link is now available in Workplace 3.6 (from your user avatar menu), and leads out to its corresponding version of the Workplace documentation.
Bug fixes
Special characters can now be used within #hashtags, which can be used in Workplace's commenting and other content editing boxes.

News items can now be created with the & character in their News/Announcement headlines, as well as Event names.

The community and discussion Create buttons are now presented correctly in Mozilla Firefox.

If a parent comment is deleted, all of its replies are removed and no longer remain until the page has been refreshed.

The calendar no longer displays errors when all category options are cleared.