Release notes
This page presents the release notes for Workplace v3.4, as well as provides access to the release notes for earlier Workplace versions:
Workplace 3.4
New features
Engagement analytics
The engagement analytics feature of Workplace provides organisations with a way to:
Measure and influence the engagement of their user with Workplace. Workplace system administrators can review reporting dashboard data to gain insights into their users reading habits and using this data, develop targeted content.

Identify their most popular news and information (e.g. the number of comments on a director's announcement).

Share usage statistics with stakeholders through in-page analytics and reporting dashboard information, which in turn demonstrate engagement with important topics.
In-page analytics
Available for news items and other types of pages. This feature offers a snapshot of user engagement statistics, showing a summary of information about the page's total number of views, comments, number of times the page was marked as a favourite ("favourited"), the average time spent on the page, and when the page was last updated.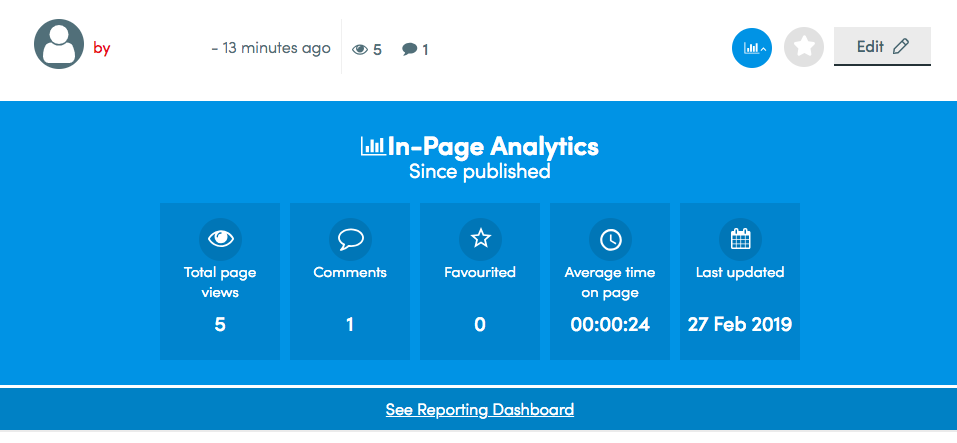 Reporting dashboard
Allows Workplace system administrators to view content engagement metrics across their entire Workplace site and can be accessed from the in-page analytics feature. The reporting dashboard provides access to:
An Analytics Overview page, showing the total number of users, news items, pages, as well as social interactions which have occurred in your Workplace system.

A User Analytics page, showing which users have recently published the most pages/news items, high-level insights into the total number of users who visited, and time spent on the Workplace site, as well as a link to more detailed information in Google Analytics.

A News Analytics page, showing which news items have received the most views, average time spent, number of comments, other data and news item summary information, as well as a link to more detailed information in Google Analytics.
Bug fixes
The feedback form no longer shows details of the previous user who submitted feedback and the current user's details are now pre-filled.

Using double quotes (") in the title of news articles no longer prevents comments from loading.

Search using #hashtag terms is now possible. A bug in a previous Workplace release prevented the ability to search using hashtags.

Alerts functionality on the Workplace homepage has been fixed. Alerts now function without the personalisation feature (available through My Account > Content Preferences).

The non-responsive spinner encountered when clicking on notifications in Internet Explorer (IE) 11 has been fixed. Improved error handling specifically for IE 11 has also been implemented.

Switching to the next tab in the global search results no longer requires users to manually re-select Page 1.

Contact cards now launch email applications and phone calls when clicking on email addresses and phone numbers.

Issues with the presentation of Workplace email notifications in Outlook 2013 and 2016 have been fixed.